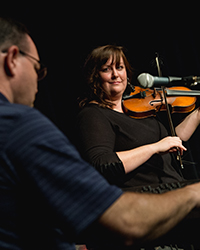 Comhla Cruinn: Gathered Together
When
Occurs on Saturday October 6 2018
Approximate running time: 2 hours
Venue
Performance Notes
×
Ticket Price: $25 Showtime: 2:00PM
There is a long history of Gaelic tradition in Christmas Island, where the culture has been practiced and treasured for generations. The annual Féis an Eilein has been a community cornerstone since the early 1990s, playing a key role in encouraging the community to preserve and promote their Gaelic culture. And an integral part of that culture involves the sharing of music—for work, for play, good times and bad. The group of singers, composers and players gathered together for this afternoon's concert expresses all that and more. This intimate community hall has proven an ideal setting for sharing the experience of milling frolics, Gaelic songs, and fiddle, dance and piping traditions over the years. Today it's about who's playing with whom, for the musicians as much as the audience. Get set for another memorable afternoon of traditional and Gaelic influenced music and culture in Christmas Island.
Hosted by Commun Feis an Eilein
NEARBY MEAL:
Àros na Mara: Lunch and Learn
Artists
Rona Lightfoot & Mairi MacInnes
Shelly Campbell & Allan Dewar
Lewis MacKinnon
Please Note: Artists and events subject to change without notice.