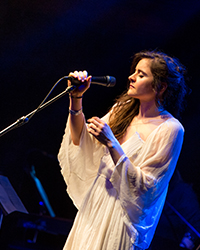 Causeway Crossing
When
Occurs on Saturday October 6 2018
Approximate running time: 2 hours and 30 minutes
Venue
Performance Notes
×
Ticket Price: $45/40 Showtime: 7:30PM
"The Canso Causeway's a wonder they say / It's mainland rock and mainland clay / Many do come but they don't plan to stay / It was built for going away." So goes Albert MacDonald's tribute to the Canso Strait, with music by John Gillis. "The Causeway" is ripe with symbolism—on the one hand, it's a path to the wealth and opportunity of the west; on the other, an indelible link to "home". Taken literally, the Causeway is the physical manifestation of this year's theme, Connected. And the very talented performers featured in tonight's concert—singers, pipers, fiddlers and piano-players, from Cape Breton, PEI, and nearby Pictou County—each have their own connection to the rock, clay and steel construction that links the Island to the mainland. Whether it's taken them away, brought them back home, or simply provided passage for musical adventure and inspiration, these performers are linked together.
NEARBY MEAL:
Fishcakes & Fiddles
Artists
Doris Mason
Rita Rankin & Joanne MacIntyre
Fiona MacGillivray
Marilyn MacDonald MacKinnon & Howie MacDonald
Mairi Rankin
Ellen MacPhee
Please Note: Artists and events subject to change without notice.