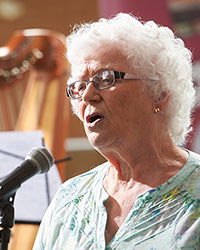 Bards of Boisdale
When
Occurs on Sunday October 7 2018
Approximate running time: 2 hours and 30 minutes
Venue
Performance Notes
×
Ticket Price: $30 Showtime: 7:30PM
The tradition of descriptive and satirical Gaelic poetry and song dates back to Ireland's Iron Age, continued well into the 18th century in Scotland and extended into the early 20th century in Cape Breton. Among the communities on the Island where this style of composing flourished were Barrachois, Boisdale and Beaver Cove. Through years of preservation efforts, documenting and compiling these songs from the area, a collection was created known as the The Bards of Boisdale that reflects the characters, culture and everyday events of the late 19th century Boisdale district. Tonight we'll hear a few songs from the collection sung by Scotland's Cathy Ann, Rona, Kathleen, Allan and Mairi and Cape Breton's own Sarah MacInnis. Finishing off the night we'll welcome Breabach, one of the UK's most dynamic and powerful bands, to the hills of Boisdale.
Hosted by Boisdale Volunteer Fire Department
NEARBY MEAL:
Local Harvest Thanksgiving Dinner
Artists
Cathy Ann MacPhee & Kathleen MacInnes
Rona Lightfoot & Mairi MacInnes
Allan MacDonald & Paul MacDonald
Breabach
Sarah MacInnis
Please Note: Artists and events subject to change without notice.