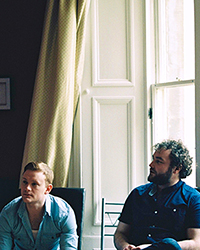 Along the Shores of Hogoma
When
Occurs on Sunday October 7 2018
Approximate running time: 2 hours and 30 minutes
Venue
Performance Notes
×
Ticket Price: $30/25 Showtime: 7:30PM
There's a popular song that celebrates "raisin' the jar and raisin' hell, there's plenty of stories that they could tell" as it recounts good times "along the shores of Hogoma". Hogoma is what the Gaelic settlers called Whycocomagh, a Mi'kmaq word for "head of the waters", and a lively community which has hosted sold- out concerts since the Festival began. The song is a Rankin Family favourite, and one fiddler Howie MacDonald knows well, having played with them for many years. Whycocomagh's own Stephanie MacDonald lends some local flavour on fiddle with Susan MacLean from nearby Washabuck on piano, and Scottish quartet Rura continues their whirlwind visit to the Island. North Shore singer-songwriter Buddy MacDonald will tie it all together with some songs to make this night along the shores of Hogoma complete.
Hosted by Whycocomagh Volunteer Fire Department
NEARBY MEAL:
Whycocomagh Thanksgiving Dinner
Artists
Rura
Howie MacDonald & Mary Beth Carty & Hilda Chiasson
Buddy MacDonald
Stephanie MacDonald & Susan MacLean
Please Note: Artists and events subject to change without notice.