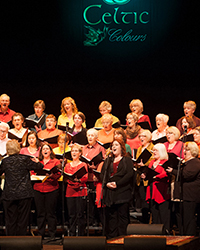 United in Music
When
Occurs on Wednesday October 31 2018
Approximate running time: 2 hours and 30 minutes
Venue
Performance Notes
×
Ticket Price: $30/25 Showtime: 7:30PM
Isn't there just something about beautiful music in a church that makes it just a little more beautiful than usual? There's really nothing quite like it, and with his evening's concert at United Protestant Church in Sydney River you won't even have to imagine the heavenly sound of a choir. United in Music brings together the Cape Breton Chorale—more than 40 voices united in song, and two beautiful fiddlers who have each had a significant impact and influence on their respective fiddling traditions. Fiddler Calvin Vollrath, a North American fiddle champion who has composed more than 600 tunes, returns to the Festival from his home in St. Paul, Alberta. This concert will unite Calvin's Métis influenced style and tradition with Cape Breton's, by way of the incomparable Brenda Stubbert, who has been known to compose a tune or two herself. There is a great appreciation between Brenda and Calvin so expect a lively finale from these two influential and entertaining fiddlers.
Hosted by Men's Brotherhood-United Protestant Church of Sydney River
NEARBY MEALS:
Apple Glazed Roast Pork Dinner
and
Prime Brook Roast Beef
Artists
Calvin Vollrath
Cape Breton Chorale
Brenda Stubbert & Kolten MacDonell
Please Note: Artists and events subject to change without notice.