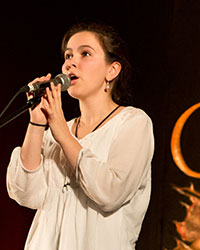 We'll Meet in Inverness
When
Occurs on Saturday October 12 2019
Approximate running time: 2 hours
Venue
Performance Notes
×
Ticket Price: $35 Showtime: 2:00PM
Meeting in Inverness today isn't a coincidence. Being just about halfway between Chéticamp and Judique along the Ceilidh Trail, what better place to meet up for an afternoon of music? The folks in this show are here because they embody the theme of "lively youth". One would be hard-pressed to find a group more fitting of this theme than Talisk. The young Scottish band's lively playing will make it difficult to stay seated in the church pews. Mentorship also plays a hand in how our youth absorb the tradition and culture. That's why Dawn and Margie Beaton are teaming up with former student Maggie Beaton for some local tunes. Families and friends prove powerful allies in cultural transmission as we see with mother Mary Elizabeth accompanying daughters Sarah and Elizabeth, while bandmates Jenna Moynihan and Màiri Chaimbeul bond over fiddle and harp. Meet me in Inverness? Absolutely!
NEARBY MEAL:
Squash Soup Luncheon
Artists
Talisk
Dawn & Margie Beaton & Maggie Beaton
Sarah MacInnis & Elizabeth MacInnis & Mary Elizabeth MacInnis
Màiri Chaimbeul & Jenna Moynihan
Please Note: Artists and events subject to change without notice.