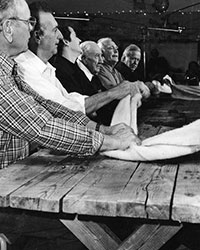 It's Not Just a Feis
When
Occurs on Saturday October 12 2019
Approximate running time: 2 hours
Venue
Performance Notes
×
Ticket Price: $30 Showtime: 2:00PM
Gaelic culture runs deep in Christmas Island (Eilean Na Nollaig), where the traditions have been kept up and passed on for generations. One of the key factors in maintaining the culture's place of prominence here is Comunn Féis an Eilein. The organization has been presenting the annual Féis an Eilein since the early 1990s. A Féis (faysh) is a community-based festival designed to promote the Gaelic language and culture of an area. The first Féis was held on the Isle of Barra in 1981, and Christmas Island is the first place outside of Scotland to hold a Féis. Féis an Eilein includes workshops in Gaelic language and song, step dancing, fiddle and chanter. Commun Féis an Eilien also presents Gaelic Activities Camps for youth, concerts, milling frolics, céilidhs and square dances. Today's matinee celebrates the significant contribution Féis an Eilein has made over the years.
Hosted by Commun Feis an Eilein
NEARBY MEAL:
Àros na Mara: Lunch and Learn
Artists
Kinnon Beaton & Betty Lou Beaton
Arthur Cormack
Kenneth MacKenzie
Arthur Cormack
Colin Watson
Gerard Beaton
Na Gaisgich Òga
Fuaran
Please Note: Artists and events subject to change without notice.