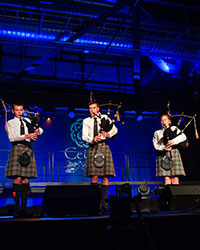 The Young Heroes:
When
Occurs on Sunday October 13 2019
Approximate running time: 2 hours
Venue
Performance Notes
×
Ticket Price: $35 Showtime: 2:00PM
Na Gaisgich Òga is a Gaelic mentorship program for youth, run by Colaisde na Gàidhlig that gives students the opportunity to improve their language skills, participate in Gaelic culture, meet local Gaelic speakers, and connect with the local Gaelic communities. Fuaran is an initiative established by Fèisean nan Gàidheal in Scotland to encourage a new generation of Gaelic speakers and singers to engage in the research and collection of Gaelic songs in their local area. This afternoon's concert brings these young heroes from Cape Breton and Scotland together alongside other young learners, their mentors and more experienced, established players in the tradition.
Hosted by Colaisde na Gàidhlig / The Gaelic College
NEARBY MEAL:
St. Ann's Thanksgiving Dinner
Artists
Andrea Beaton & Véronique Plasse
Brian Doyle & Ben van Zutphen & Keigan MacLennan
Cape Breton University Pipe Band
Elizabeth MacInnis & Campbell Hart
Na Gaisgich Òga
Fuaran
Please Note: Artists and events subject to change without notice.