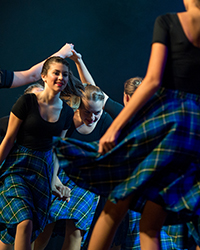 Dancing Up a Suete
When
Occurs on Sunday October 13 2019
Approximate running time: 2 hours
Venue
Performance Notes
×
Ticket Price: $30/25 Showtime: 2:00PM
It's no secret that some of Cape Breton's best dancers come from the culturally- rich and vibrant Acadian community of Chéticamp. This is where the famous southeast winds, known as les suêtes, blow strong onshore, and where local dance troupe La Swing du Suête has kept their dance tradition strong for more than 20 years. Paul Gallant has been vital to the troupe's formation, with past director Nicole LeBlanc taking a strong leadership role over the years and long-time dancers Christine Doucet and Sylvie Aucoin leading the charge today. They will welcome fellow dancers from down the coast and the Canadian Prairies to show their steps. With lively music to boot, this is one charged up show!
Hosted by Conseil des Arts de Chéticamp
NEARBY MEALS:
Acadian Culinary Experience
and
Dine with the Mi-Carêmes
Artists
La Swing du Suête
Ian MacDougall & Hilda Chiasson & Patrick Gillis
Ivan Flett Memorial Dancers
Hailee LeFort, Ward MacDonald & Jesse Périard
Melanie MacDonald
Amanda MacDonald
Please Note: Artists and events subject to change without notice.