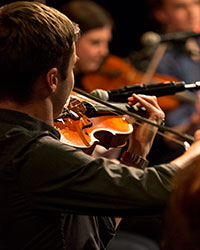 Craic'n Cabaret
When
Occurs on Sunday October 13 2019
Approximate running time: 3 hours and 30 minutes
Venue
Performance Notes
×
Ticket Price: $45/40 Showtime: 7:30PM
This is the Thanksgiving Day long weekend in Canada, so why not take advantage of the extra day off by getting together with friends for some drinks and tunes at the Craic'n Cabaret? You can bet there will be plenty of the latter with J.P. Cormier and Tim Edey. These two multi-instrumentalists possess the stage with their mastery over whichever instrument they take to hand, delighting audiences and each other in the process. J.P. and Tim will be joined by a group that has become a staple at Celtic Colours in recent years, Ùr: The Future of Our Past. This hand-picked group of students from the Royal Conservatoire of Scotland showcases some of the exceptional talent in that program. One of Ùr's award-winning tutors, guitarist Jenn Butterworth, will be playing with her new group, Kinnaris Quintet at tonight's Cabaret, which also introduces the latest incarnation of erstwhile pop-rockers Mardeen, four Cape Bretoners living on the mainland who have rediscovered their folkier traditional roots as Villages. They may live away now, but they never miss a chance to get home for Thanksgiving Dinner. Don't miss this chance to join the party.
19 & over, photo ID requiredArtists
J.P. Cormier & Tim Edey
Ùr: The Future of our Past
Kinnaris Quintet
Villages
Please Note: Artists and events subject to change without notice.