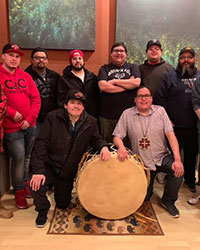 Unama'ki Mawio'mi: a Cape Breton Gath...
When
Occurs on Thursday October 24 2019
Approximate running time: 2 hours
Venue
Event Notes
×
Ticket Price: $30 Showtime: 2:00PM
Cape Breton is known by the Mi'kmaw as Unama'ki and today we get together for a mawio'mi or gathering. The Mi'kmaq culture has close ties to Cape Breton Gaelic and Acadian traditions, including a love of dance and fiddle tunes. There will be plenty of both to go around today. Fiddlers Mooney Francis and Anita MacDonald are sure to find some tunes in common from the Cape Breton canon. The Ivan Flett Memorial Dancers will contribute some Métis dancing while local Mi'kmaq group Stoney Bear will share their singing, dancing, and drumming traditions. Sixteen-year- old Emma Stevens has a beautiful voice and a keen awareness of her culture. This rising star's Mi'kmaq version of the Lennon/McCartney masterpiece "Blackbird" has been attracting international attention, including a recent performance at the United Nations Habitat Assembly in Kenya.
Hosted by Eskasoni Band Council
NEARBY MEAL:
Thanksgiving by the Bras d'Or
Artists
Miller | MacDonald | Cormier
Ivan Flett Memorial Dancers
Mooney Francis
Stoney Bear Singers
Emma Stevens
Please Note: Artists and events subject to change without notice.