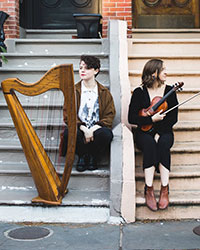 A Good D'Escousse for a Party
When
Occurs on Monday October 14 2019
Approximate running time: 2 hours and 30 minutes
Venue
Performance Notes
×
Ticket Price: $30/25 Showtime: 7:30PM
It's a beautiful drive to D'Escousse and tonight's concert gives you a very good excuse to do just that. Part of the purpose of this year's theme, "lively youth", is to give a platform for young voices and perspectives. We'll see plenty of that here tonight. Janelle Boudreau is a fiddler and dancer from nearby Arichat who has entertained visitors at concerts and dances around the Island. She'll be joined by her father James on guitar and Joël Chiasson on piano tonight for her Celtic Colours debut. East Margaree fiddler Hailee LeFort will be making her fourth appearance with us, backed by some musical friends from P.E.I. Boston-based harp and fiddle duo Jenna Moynihan and Màiri Chaimbeul, and Scottish trio Talisk will keep the youthful energy up as we see just what these young performers are capable of.
Hosted by D'Escousse Civic Improvement Society
NEARBY MEAL: Isle Madame Thanksgiving Dinner - Two sittings:
4:00PM
and
5:15PM
Artists
Talisk
Màiri Chaimbeul & Jenna Moynihan
Hailee LeFort, Ward MacDonald & Jesse Périard
Janelle Boudreau & Joël Chiasson
Please Note: Artists and events subject to change without notice.