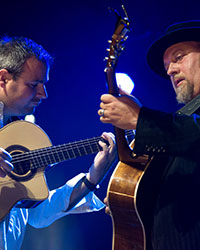 Celtic Pub
When
Occurs on Monday October 14 2019
Approximate running time: 2 hours
Venue
Performance Notes
×
Ticket Price: $35 Showtime: 7:30PM
Tonight we welcome back some familiar faces and are introduced to some folks we'll surely be seeing more of in years to come. Of course, J.P. Cormier and Tim Edey need no introduction, not since first meeting on stage during the Guitar Summit at Celtic Colours in 2010. That meeting inspired many more, and eventually an album together which was finally released, to critical acclaim, just last year. Sitting next to them at the Guitar Summit that night was John Doyle who has delighted Celtic Colours audiences many times over the years with his masterful picking, superb songwriting and just the right accompaniment for any situation. Tonight he joins award- winning fiddler Jeremy Kittel and mandolin player extraordinaire Josh Pinkham in the exciting trio Kittel & Co. for their Celtic Colours debut. Also making their first appearance at the Festival this year is Kinnaris Quintet, featuring the fantastic guitar-playing of Jenn Butterworth alongside three fiddles and mandolin. Jenn has been here the last few years with Ùr: The Future of our Past and will be doing double duty at tonight's jam-packed Celtic Pub.
19 & Over; Photo ID required
Hosted by North Sydney Firefighters Club
Artists
J.P. Cormier & Tim Edey
Kittel & Co & John Doyle
Kinnaris Quintet
Ùr: The Future of our Past
Please Note: Artists and events subject to change without notice.