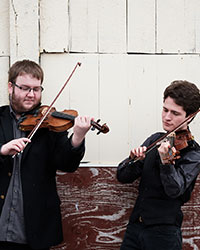 In the Blood
When
Occurs on Monday October 14 2019
Approximate running time: 2 hours and 30 minutes
Venue
Performance Notes
×
Ticket Price: $30 Showtime: 7:30PM
There's no doubt that the music's in the blood with these family pairings. There is a level of passion here that can't be taught, it's just built into their character. When you feel it in the blood, it comes out in the music and this concert explores some family connections that bear this out. Piper John MacLean comes from a long line of fiddlers, dancers and pipers on both sides of his family. His son Cailean was subsequently raised in a household steeped in traditional music and plays guitar with a passion for traditional music. Alexis Chartrand and Nicolas Babineau are a young Québécois duo inspired by Québec's traditional music and dances. They are playing with Alexis' father Pierre, an award-winning Québécois dance historian-ethnologist, choreographer, and master step dancer. Rose Cameron, making her Celtic Colours debut, is a classically-trained pianist and singer who will be performing with her dad, Lawrence on piano. Fiddler Ian MacDougall, known for his driving dance style and older Scottish repertoire, will drive the point home with his uncle Pius MacIsaac on guitar.
Hosted by Alexander Graham Bell Museum Association
Artists
John MacLean & Cailean MacLean
Pierre Chartrand & Chartrand Babineau
Ian MacDougall & Pius MacIsaac
Rose Cameron & Lawrence Cameron
Please Note: Artists and events subject to change without notice.