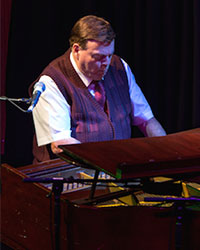 Tunes in the Afternoon
When
Occurs on Tuesday October 15 2019
Approximate running time: 2 hours
Venue
Performance Notes
×
Ticket Price: $30 Showtime: 2:00PM
With strong ties to their Scottish and Irish roots intact, folks in New Waterford sure do love their music. Doug MacPhee, paired today with Colin Grant, grew up here where the very best Cape Breton fiddlers of the day would gather at his house to play with his mother Margaret on piano. As many of his generation did, Doug travelled for work, and a popular place to go in those days was the Boston area. So popular, in fact, that Cape Breton fiddlers and piano players would go to play for, and with, the expatriate Cape Bretoners there. That strong connection to traditional music continues to this day in the Boston area, and it's where fiddler Jenna Moynihan and harper Màiri Chaimbeul first got together. Ben Miller grew up in New York with a love for the pipes. His Scottish and Irish influences have combined winningly with Anita MacDonald's Cape Breton Gaelic heritage of fiddle, dance, and Gaelic song and the Acadian twist of Zakk Cormier's guitar-playing. Immerse yourself in a peaceful sanctuary for an afternoon of heavenly tunes.
Hosted by Calvin United Church
NEARBY MEAL:
Stuffed Chicken Dinner
Artists
Miller | MacDonald | Cormier
Colin Grant & Doug MacPhee
Màiri Chaimbeul & Jenna Moynihan
Please Note: Artists and events subject to change without notice.