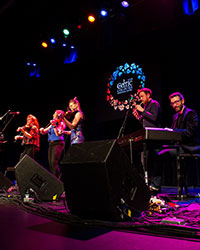 Kicking Ash
When
Occurs on Tuesday October 15 2019
Approximate running time: 2 hours
Venue
Event Notes
×
Ticket Price: $35/30 Showtime: 7:30PM
Tonight's concert brings this year's Artists in Residence together for a special, uplifting journey along musical paths that start in Scotland and land in Mabou, where shared traditions ring true. Rooted in the culture of the Scottish Highlands, Cape Breton's Beòlach and Scotland's Breabach have much in common. With similar instrumentation and a penchant for exploration, both are known for presenting original compositions alongside unique, dynamic arrangements of classic traditional tunes, steeped in the rural culture of the Gaels. We'll see both bands perform on their own, together, and in different formations for a special, once- in-a-lifetime performance. If you were here in 2018, you might have noticed they shared the stage in Membertou. That wasn't a coincidence but a plan to set the stage for tonight. Just for fun, we translated their band names from Gaelic and found that breabach means "kicking" while beòlach can be translated to "ashes with hot embers". A year in the making, we think this meeting of musical minds is going to be one "ash kicking" good time. Get your tickets early! You don't want to miss this one.
NEARBY MEAL:
Port Hood Roast Beef Dinner
Artists
Please Note: Artists and events subject to change without notice.