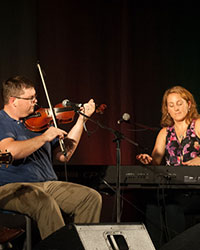 A Cheticamp Soiree
When
Occurs on Tuesday October 15 2019
Approximate running time: 2 hours
Venue
Performance Notes
×
Ticket Price: $30/25 Showtime: 7:30PM
It is said that you can see Prince Edward Island from Chéticamp. The strong connection between Cape Breton and P.E.I. music makes one wonder if you can hear across the Northumberland Strait as well. J.J. Chaisson and Darla MacPhee come from P.E.I.'s famously musical Chaisson family. Cape Breton fiddler and composer Andrea Beaton spent some formative years playing with the Chaissons, and Rémi Arsenault played on one of Andrea's albums. More recently, Andrea has been performing with Québécois fiddler Véronique Plasse. J.P.'s Cape Breton roots are in the Chéticamp area—just one of many influences on his playing. Another is the bluegrass he picked up touring as a teenager in the American south. We'll get a taste of that when J.P. and Jake Lauzon team up. And we welcome Cape Breton singer- songwriter Lisa Cameron backed by husband Vern on guitar and son Finley on mandolin. Chauffe-les!
Hosted by Conseil des Arts de Chéticamp
NEARBY MEAL:
Acadian Culinary Experience
Artists
J.P. Cormier & Jake Lauzon
J.J. Chaisson & Darla MacPhee & Rémi Arsenault
Andrea Beaton & Véronique Plasse
Lisa Cameron & Vern MacDougall & Finley MacDougall
Please Note: Artists and events subject to change without notice.