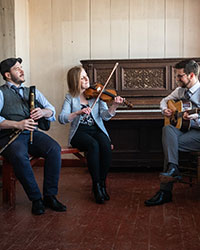 Steeped in Tradition
When
Occurs on Wednesday October 16 2019
Approximate running time: 2 hours
Venue
Performance Notes
×
Ticket Price: $35 Showtime: 2:00PM
The performers in today's matinee at the Ephraim Scott Presbyterian Church have soaked up the traditions of Gaelic music, culture and song as passed down over generations. To say they are all steeped in tradition is to say they have each absorbed the essential elements of the tradition, much as the water absorbs the taste and flavour of tea when steeping Cape Bretoners' favourite cup. Miller | MacDonald | Cormier bring together pipes, fiddle, guitar, Gaelic song and dancing with roots in Scottish, Irish, Cape Breton and Acadian traditions. The trio recorded their latest album, South Haven, in this very church which is hosting a Celtic Colours concert for the first time. Dave MacIsaac, Dawn Beaton, and Hilda Chiasson will offer a very traditional repertoire and style of fiddle tunes, while Buddy MacDonald and Rachel Davis will honour the tradition of those who came before them, from the Gaelic song tradition of the North Shore to the fiddle-playing of Rachel's grandfather in the nearby Baddeck area.
Hosted by Empraim Scott Presbyterian Church
NEARBY MEALS:
Marag, Neeps and Tatties
Artists
Miller | MacDonald | Cormier
Buddy MacDonald & Rachel Davis
Dave MacIsaac & Dawn Beaton & Hilda Chiasson
Please Note: Artists and events subject to change without notice.