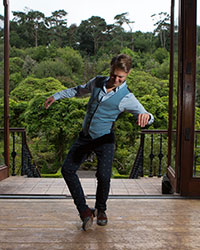 Close to the Floor
When
Occurs on Wednesday October 16 2019
Approximate running time: 2 hours
Venue
Performance Notes
×
Ticket Price: $35/30 Showtime: 7:30PM
Cape Breton's traditional music has always been closely associated with dancing. And the dancing, like the music, has typically been passed down through generations. The highest compliment that can be paid to a Cape Breton step dancer is to say they are "close to the floor". Tonight's concert will celebrate this local style alongside dance from the Québécois, Ottawa Valley and Appalachian traditions. Accompanied by fiddles, pipes, and guitar, the dancers gathered here will delight and amaze with their steps and style. They just might inspire you to get up for a step or two yourself. Suas e!
Artists
Nic Gareiss & Mairi Campbell
April Verch Band
The Pellerin Brothers
Pierre Chartrand & Chartrand Babineau
Dawn & Helen MacDonald & Brenley Gillis
Stephen & Lewis MacLennan
Iain MacQuarrie
John MacLean & Cailean MacLean
Kenneth MacKenzie & Kolten MacDonell & Orianna MacNeil
Please Note: Artists and events subject to change without notice.