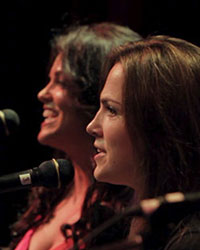 Ceilidh in the Glen:
When
Occurs on Wednesday October 16 2019
Approximate running time: 2 hours and 30 minutes
Venue
Performance Notes
×
Ticket Price: $30 Showtime: 7:30PM
There's a ceilidh in the glen tonight and you can bet it will be as strongly rooted in tradition as its surroundings are. Known for generous hospitality and enduring Gaelic customs, Glendale residents hold their culture in high regard and take their ceilidhs to a whole new level. From ceilidhs at the hall, to legendary house parties down the road, Joanne MacIntyre and Rita Rankin can relate to that. Beautiful Gaelic singers from Mabou Coal Mines, they'll share the stage with Joanne's sons tonight. Gillian Boucher grew up with ceilidhs, playing fiddle and dancing while Rosie MacKenzie and Dominique Dodge bring fiddle, harp and dance together with Jenny MacKenzie. The Fretless may not have grown up in the ceilidh tradition, but with three fiddles and a cello in the group, we're sure they'll get the hang of it in no time.
Hosted by Glendale and Area Community Cooperative
NEARBY MEALS:
Chowder Choices
Artists
The Fretless
Joanne MacIntyre & sons & Rita Rankin
Gillian Boucher & Bob McNeill
Rosie MacKenzie & Dominique Dodge & Jenny MacKenzie
Please Note: Artists and events subject to change without notice.