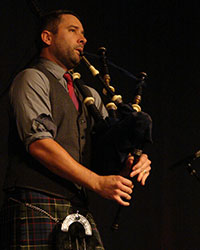 The Pipers' Pub
When
Occurs on Thursday October 17 2019
Approximate running time: 3 hours
Venue
Event Notes
×
Ticket Price: $35 Showtime: 7:30PM
The pipers are on the loose at the pub tonight and with this collection of Cape Breton and Scottish pipers, it's sure
to be a lively time. John MacLean was born into a family of tradition bearers on Cape Breton and is descended from a long line of pipers, fiddlers and step dancers. A three-time Atlantic Canadian Champion, John never lost sight of the music that was more "real" to him, the music that was played at the dances and house ceilidhs, with that unmistakable blas na Gaidhlig (sound of Gaelic). He will be accompanied by his son Cailean on guitar. Always respectful of the tradition, but also taking the instrument in exciting new directions, Finlay MacDonald has blazed a trail as one of Scotland's finest exponents of contemporary and traditional piping. His duo with Shetland fiddler Chris Stout promises to take us on a wonderful musical journey. Matt MacIsaac, who plays pipes with Beòlach, will step out into the spotlight tonight with bandmate Mac Morin on piano, as will pipers James MacKenzie and Calum MacCrimmon from Breabach. Get cozy by the fire tonight at the beautiful Inverary Inn.
19 & over, photo ID requiredArtists
John MacLean & Cailean MacLean
Finlay MacDonald & Chris Stout
Matt MacIsaac & Mac Morin
James Mackenzie & Calum MacCrimmon
Please Note: Artists and events subject to change without notice.