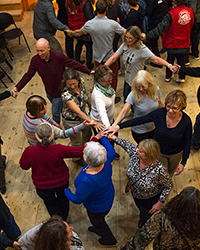 Music of the Night
When
Occurs on Friday October 18 2019
All Day Event
Venue
Performance Notes
×
Ticket Price: $150 Showtime: 5:30PM
It's Friday night in the French fortress town of Louisbourg, in the middle of the 18th century. Music and laughter spills out into the streets as villagers gather at pubs, restaurants and taverns. Conversation mingles with music, over a meal served on pewter dishes. Singing and laughter drifts through the open window of the tavern on the corner while lively tunes draw the dancers to fill the floor in the hall. Experience it all for yourself tonight at the Fortress of Louisbourg National Historic Site. This one-of-a-kind night on the town starts with an 18th century meal, then carries on, into the cobblestone streets for music, dancing and good times. As you travel from one reconstructed stone building to another, you'll find music everywhere—songs in French, English and Gaelic, and tunes for toe-tapping and dancing. Bring comfy shoes and a sweater.
19 & Over. Photo ID required
A note about this performance: Please expect 18th century conditions. This authentic experience will include walking the streets of the Fortress at night under the open sky with the possibility of inclement weather. People with mobility issues may have difficulty with the terrain and/or distance. Wear comfortable footwear and bring along warm clothing. Let the starry sky light the venue and music warm the soul during this unforgettable experience!
Menu
Wine
Vegetable Soup with Roll
Poached Haddock in Bechamel Sauce
Glazed Carrots with Rice
Fortress Rum Cake
Tea or Coffee
If you have any dietary restrictions please phone 902.733.3230
Artists
Laura Smith
Saltfishforty
J.J. Chaisson & Darla MacPhee & Rémi Arsenault
Nicole LeBlanc
Maxim Cormier & Gervais Cormier
Gu Smior
Please Note: Artists and events subject to change without notice.