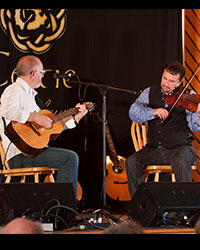 Friends and Family
When
Occurs on Saturday October 19 2019
Approximate running time: 2 hours and 30 minutes
Venue
Event Notes
×
Ticket Price: $30 Showtime: 2:00PM
When you come from a place like Cape Breton or Orkney, or even the extended community of traditional Gaelic song, music, and dance, there always seems to be friends and family around. And this matinee will feature both in spectacular style. Music clearly runs in the family with Dwayne Côté and Roger Stone from Cape Breton. Well-known individually, the brothers will share their instrumental mastery of fiddle, guitar and banjo, Roger's vast repertoire of songs, and Dwayne's outstanding fiddle compositions. Douglas Montgomery (fiddle) and Brian Cromarty (guitar, mandola, and vocals) from Orkney have known each other since primary school and played together in sessions and various bands over the years, before forming Saltfishforty. So the lines between friends and family may be a little blurrier in their case. But really, do lines between friends and family even exist when it comes to making music? Fàrsan represents a new generation of traditional musicians pulling from various world-wide influences. Expect a memorable afternoon of music, song, and dance in the majestic beauty of St. Matthew Wesley.
Hosted by St. Matthew Wesley United Church
Artists
Dwayne Côté & Roger Stone
Saltfishforty
Fàrsan
Please Note: Artists and events subject to change without notice.