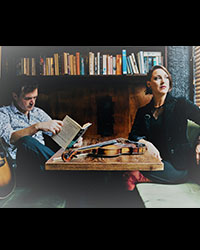 Right At Home
When
Occurs on Saturday October 19 2019
Approximate running time: 2 hours
Venue
Event Notes
×
Ticket Price: $35 Showtime: 2:00PM
Colaisde na Gàidhlig / the Gaelic College is home to the late night Celtic Colours Festival Club, sponsored by Big Spruce Brewing from just down the road in Nyanza, so on this last day of the Festival, you can bet that more than a few Festival folks are feeling right at home here by now. But some of the artists performing today may be feeling a little more at home than others. Nic Gareiss and Mairi Campbell have long-standing ties to Cape Breton, while the Dardanelles, from nearby Newfoundland, grew up in a culture of traditional music and dance, so they'll be feeling right at home too. Many Cape Breton dancers, fiddlers, pipers, piano-players and Gaelic singers have fond memories of attending the College growing up, learning about their Gaelic heritage and developing their language, dance and instrumental skills. Some, like fiddler Dara Smith-MacDonald and dancer Sheena Boucher, have even gone on to teach at the College. With this lineup of music and dance, we think you'll be feeling right at home here today too.
Artists
The Dardanelles
Nic Gareiss & Mairi Campbell
Gillian Boucher & Bob McNeill
Dara Smith-MacDonald & Adam Young
Sheena Boucher & Tessa Boucher
Please Note: Artists and events subject to change without notice.