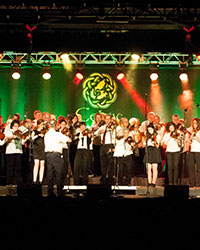 The Cape Breton Fiddlers
When
Occurs on Sunday October 13 2019
Approximate running time: 2 hours and 30 minutes
Venue
Performance Notes
×
Ticket Price: $30/25 Showtime: 7:30PM
Cape Breton Island's rich fiddling tradition will be front and centre this evening in Whycocomagh as the Cape Breton Fiddlers' Association shares the stage with one of the hottest trad bands on the scene today, Còig, featuring past Fiddlers' Association members Chrissy Crowley and Rachel Davis. Made up of up-and-coming as well as professional and well-known players and composers, the Fiddlers' Association has been dedicated to preserving and promoting traditional Cape Breton fiddle music, all the while nurturing and encouraging younger players, since the early 1970s. Vision, leadership, and plain old "doing the work" have meant generations of musicians have benefitted from the Association's existence. For more than forty years, the Association has been the grassroots of the fiddle tradition and the keepers of the Island's fiddle repertoire, presenting an annual Festival of Cape Breton fiddling, hosting workshops, and providing opportunities for its members to learn new tunes and techniques. They have been at the forefront of a resurgence in Cape Breton fiddling that has seen the tradition and style flourish at home and around the world.
Hosted by Whycocomagh Volunteer Fire Department
NEARBY MEAL:
Whycocomagh Turkey Dinner
Artists
Còig
Cape Breton Fiddlers' Association
Please Note: Artists and events subject to change without notice.