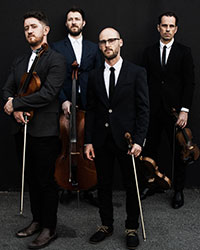 Fiddle Frenzy
When
Occurs on Monday October 14 2019
Approximate running time: 2 hours and 30 minutes
Venue
Performance Notes
×
Ticket Price: $35 Showtime: 7:30PM
It's no wonder fiddle is celebrated in Judique. It takes a front seat at the Celtic Music Interpretive Centre every Sunday afternoon, is always on tap for the annual Kintyre Farm Concert, and generations of fiddlers have played below the giant fiddle replica on the Centre's stage. So it's fitting that fiddle takes the throne tonight. Ms. Brenda has provided her fiddle flair since her formative years, greatly influenced by the many Irish-styled fiddlers on the Island. Stan Chapman is a fine fiddler in his own right, but happens to have taught some notable youth in his time, including some of this year's Artists in Residence, Mairi Rankin and Wendy MacIsaac. And we'll hear what jazzy, classically- based Canadian quartet The Fretless throw into the mix for this frenzied fiddle fest.
Hosted by Judique Community Centre Development Association
Artists
The Fretless
Brenda Stubbert & Pat Chafe & Blanche Sophocleous
Mairi Rankin & Eric Wright
Wendy MacIsaac & Allan Dewar & Patrick Gillis
Sarah MacInnis
Stan Chapman
Please Note: Artists and events subject to change without notice.