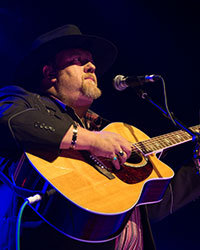 Guitar Summit
When
Occurs on Thursday October 17 2019
Approximate running time: 2 hours and 30 minutes
Venue
Event Notes
×
Ticket Price: $35 Showtime: 7:30PM
Since its introduction in 1997, the Guitar Summit has become a staple of the Celtic Colours lineup, and as long as there's been a Guitar Summit—whether it's called Highland Guitar, Celtic Guitar or just plain old Guitar—Cape Breton's J.P. Cormier has always spearheaded it. One of the most popular concerts in a festival that boasts so many must-see events, the Guitar Summit always delivers dazzling results from the stage, regardless of whether you recognize the names on the marquee or not. Although J.J. Chaisson may be more familiar as a fiddler from P.E.I.'s first family of fiddle, J.P. introduced him as "one of the finest pickers of Celtic fiddle tunes you're ever going to find" during the 2014 version, which, of course, proved to be true. They will be joined by award-winning and accomplished young guitar picker Jake Lauzon from Ontario, and Beppe Gambetta, an Italian guitarist whose passion for acoustic guitar has led to performing and recording with Celtic guitar master Tony McManus and sharing festival and concert stages with J.P. Cormier.

Hosted by Judique Community Centre Development Association
Artists
J.P. Cormier
Beppe Gambetta
J.J. Chaisson
Jake Lauzon
Please Note: Artists and events subject to change without notice.