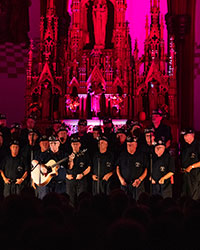 Their Lights Will Shine
When
Occurs on Monday October 14 2019
Approximate running time: 2 hours and 30 minutes
Venue
Performance Notes
×
Ticket Price: $40/30 Showtime: 7:30PM
If you're a Cape Bretoner, there is something about the Men of the Deeps parading to the stage from the back
of a room with the lamps lit on their miners' helmets that just touches your soul. Actually, even if you aren't a Cape Bretoner, this one-of-a-kind choir of men who have worked underground has a way of getting to you. After more than 50 years of concerts around the world, albums, radio and television features, and a National Film Board documentary, the Men of the Deeps transcend being merely a singing group—it is a social institution. The camaraderie they have amongst themselves is carried over to everyone in the room, wherever they perform. Tonight that includes the April Verch Band and the duo of Andrea Beaton and Véronique Plasse, whose lights shine bright in their own right. April is a dynamo, step dancing while fiddling, singing while step dancing, even singing, step dancing and fiddling all at once. Accomplished and energetic fiddlers, Andrea and Véronique fuse music from Québec and Cape Breton, mixing original compositions with traditional ones, taking turns exploring melody and accompaniment, and mesmerizing audiences with their intensity and precision.
Artists
The Men of the Deeps
April Verch Band
Andrea Beaton & Véronique Plasse
Please Note: Artists and events subject to change without notice.