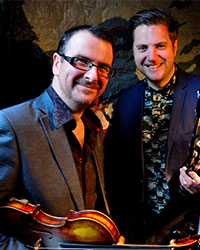 A First Time for Everything
When
Occurs on Tuesday October 15 2019
Approximate running time: 2 hours and 30 minutes
Venue
Performance Notes
×
Ticket Price: $30 Showtime: 7:30PM
Celtic Colours has a way of facilitating, inspiring, or conspiring to create opportunities for new collaborations among artists. And in some cases, a knack for rekindling old ones. While this isn't exactly the first time some of the folks in this show have played together, it is certainly a first time for Celtic Colours audiences. Bringing performers together in new combinations makes for an exciting time on stage, as well as for those listening in from the audience and that's sure to be the deal with Jeremy Kittel, Josh Pinkham and John Doyle, three extraordinary players who have teamed up just for Celtic Colours. Cape Breton fiddler Hailee LeFort will be performing in a new trio with fiddle and piano player Ward MacDonald and guitarist Jesse Périard from P.E.I., while Shetland fiddler and past Artist in Residence Chris Stout will take the stage with Scottish piper Finlay MacDonald. We'll also see Nipper MacLeod step out from the Men of the Deeps to sing a few Cape Breton classics in that unmistakeable baritone voice of his.
Hosted by Riverdale Community Services Society
Artists
Kittel & Co & John Doyle
Finlay MacDonald & Chris Stout
Nipper MacLeod
Hailee LeFort, Ward MacDonald & Jesse Périard
Please Note: Artists and events subject to change without notice.