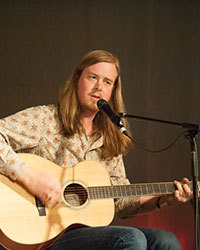 Young and Restless
When
Occurs on Wednesday October 16 2019
Approximate running time: 2 hours and 30 minutes
Venue
Performance Notes
×
Ticket Price: $40/35/30 Showtime: 7:30PM
We've gathered the young and restless together for this concert in one of the Festival's most unique venues, the Louisbourg Playhouse. The Scottish music students in Úr: The Future of our Past personify this year's "lively youth" theme and definitely fit the bill of young and restless. There is a certain inability to stay still shared by all of the performers in this concert, whether in their teens, twenties or creeping a little bit older. It's a desire to keep moving forward, in this case, with the music they love. Jordan Musycsyn is best-known as a singer and songwriter, both with his band or performing solo, while Margaret MacPherson is most often found in the soft-seat theatres, treading the boards or singing in musicals. After a few years of performing in the beloved musical- comedy show Cape Breton Summertime Revue, they started singing together as a duo. Finlay MacDonald and Chris Stout have been playing together for more than 15 years, but their pipes and fiddle duo has never lost the exuberance of youth.
Hosted by Louisbourg Playhouse Society
NEARBY MEALS:
Roast Beef Dinner in Louisbourg
Artists
Finlay MacDonald & Chris Stout
Ùr: The Future of our Past
Margaret MacPherson & Jordan Musycsyn
Please Note: Artists and events subject to change without notice.