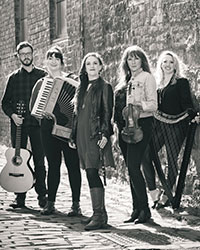 Matinee on the Mira
When
Occurs on Friday October 18 2019
Approximate running time: 2 hours
Venue
Performance Notes
×
Ticket Price: $30 Showtime: 2:00PM
Warm hospitality, good music and good times have always been the way along Cape Breton's famous Mira River, where there is a strong tradition of sharing songs and playing tunes. The Outside Track heads up this lively afternoon of tunes, songs and dance with their love of traditional music and a commitment to creating new music on this foundation. John MacLean is widely recognized as one of the finest traditional/Gaelic style pipers in the world today. This older style was played at house ceilidhs and for dancing, generations ago. John will be accompanied on guitar by his son, Cailean, who has taken a keen interest in the repertoire and Gaelic style of the great masters of former generations. Chartrand Babineau is a young Québécois duo brought together by a common passion for traditional music from Québec as well as Scotland and Ireland—in particular, music for dancing. They will accompany renowned Québécois dancer Pierre Chartrand. This afternoon's matinee gives you the opportunity to take in some of the beautiful scenery along the way.
Hosted by Marion Bridge Community Council
NEARBY MEALS:
Hearty Homemade Soup
Artists
The Outside Track
John MacLean & Cailean MacLean
Pierre Chartrand & Chartrand Babineau
Please Note: Artists and events subject to change without notice.