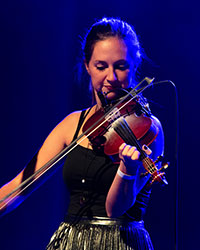 These Strings Will Sing
When
Occurs on Tuesday October 15 2019
Approximate running time: 2 hours and 30 minutes
Venue
Performance Notes
×
Ticket Price: $30/25 Showtime: 7:30PM
The strings will be singing this evening at our Lady of Fatima Church in Sydney River as fiddles, violins, viola, cello, harp and guitar share the spotlight alongside songs sung in Gaelic and English. Juno Award-winning foursome The Fretless has been pushing at the boundaries of traditional music since releasing their first album in 2012, making them a good fit with Dwayne Côté, celebrated as one of the most unique and innovative violin players in Canada. Singer and songwriter Adrianne Chapman has spent much of her life in the Highlands of Cape Breton, where she feels most connected to her Celtic heritage. A descendent of fiddler Winston "Scotty" Fitzgerald, Adrianne has been singing all of her life and the sincere emotion that comes through in her voice is truly captivating. Rosie MacKenzie and Dominique Dodge complete this lineup of singing strings with the most beautiful combination of fiddle, harp and songs.
Hosted by Our Lady of Fatima CWL
NEARBY MEAL:
Hearty Bowl of Dinner
Artists
The Fretless
Dwayne Côté & Jason MacDonald
Rosie MacKenzie & Dominique Dodge
Adrianne Chapman
Please Note: Artists and events subject to change without notice.