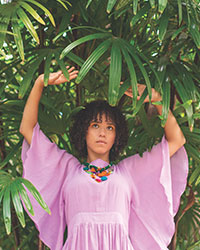 Cow Bay Ceilidh
When
Occurs on Tuesday October 15 2019
Approximate running time: 2 hours and 30 minutes
Venue
Performance Notes
×
Ticket Price: $35 Showtime: 7:30PM
Tuesday is the middle of the week for Celtic Colours and there's often a shift around this time as folks who were
here for the first half of the Festival are leaving while others are just arriving, fresh and ready to go. It's kind of like reinforcements to get us through to the end of the week—an extra little jolt of energy as the second wind kicks in. Tonight at the Cow Bay Ceilidh in Port Morien, we get one last chance to see the unbelievably energetic concertina, fiddle, guitar trio Talisk, and our first glimpse of Kaia Kater. Kaia grew up with deep family ties to folk music and spent years soaking up Appalachian music while studying in West Virginia. Her old-time banjo- picking skills, tasteful arrangements, and informed and sincere songwriting have landed her in the spotlight here in her native Canada and around the world and we're excited for her Celtic Colours debut tonight. Three of Cape Breton's finest— Ian MacDougall, Tracey Dares MacNeil, and Patrick Gillis—round out the ceilidh with a hometown touch on fiddle, piano, and guitar.
Hosted by Port Morien Development Association
NEARBY MEAL:
Ham and Salad Supper
Artists
Talisk
Ian MacDougall & Tracey Dares MacNeil & Patrick Gillis
Kaia Kater
Please Note: Artists and events subject to change without notice.