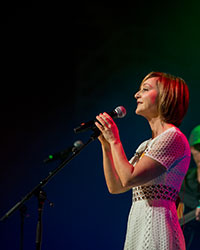 Off the Charts
When
Occurs on Friday October 18 2019
Approximate running time: 2 hours and 30 minutes
Venue
Event Notes
×
Ticket Price: $50/45/40 Showtime: 7:30PM
Ask any musician today, and one of their dreams is likely to perform with a full orchestra accompanying their songs, tunes, and arrangements. Here at Celtic Colours, we like to make dreams come true. Tonight's very special concert features beloved Cape Breton songs and tunes from one of the Island's most exciting and innovative traditional bands, arranged for and accentuated by the strings, woodwinds, brass and percussion of the Cape Breton Orchestra. Beòlach has been working on a new album to coincide with their spot as Artists in Residence. With their haunting, layered slow airs and dynamic tunes and arrangements, it seemed only fitting to pair them with our Island's orchestra, celebrating its 25th anniversary this year. We heard the effect an orchestra can have on traditional Cape Breton tunes when they played the Celtic Pops concert in 2003. Of course, there's nothing like an orchestra to bring out the emotion in a song. And there's nothing like a Rankin song to bring out the emotion in a Cape Breton crowd. With an angelic voice full of lilt and brilliant clarity, Heather Rankin will sing some well-loved Rankin Family hits and songs from her album We Walk As One. Welcome the weekend at the Joan Harriss Cruise Pavilion with a show you won't soon forget. Talk about off the charts!
Artists
Heather Rankin
Beòlach
Cape Breton Orchestra
Please Note: Artists and events subject to change without notice.