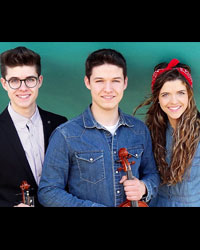 Lively in Louisdale
When
Occurs on Friday October 18 2019
Approximate running time: 2 hours
Venue
Performance Notes
×
Ticket Price: $30 Showtime: 7:30PM
Powered by four voices in a new generation of traditional musicians, Fàrsan blends multiple facets of the Gaelic traditions of Scotland and North America in their presentation. Song, instrumental and dance traditions are often viewed as three separate worlds, but Fàrsan challenges that notion, bringing together the melodies of Gaelic songs and puirt-à-beul (mouth music) with their instrumental counterparts and interjecting rhythmic step dance seamlessly to the mix. Roger Stone was born and raised in Richmond County. Known for his folk and traditional style of music, Roger is an exceptional multi- instrumentalist and a noted songwriter. The Broussards are a trio of teenage siblings from Port Hawkesbury with Irish and French ancestry who deeply embrace the music of the Scottish Gaels. Together, they form a powerful trio with a strong Celtic sound and vintage style. Get lively in one of our new festival venues tonight with tunes from the Broussards, Cape Breton and contemporary folk with Roger Stone, and a new take on Gaelic tradition with Fàrsan.
Hosted by Louisdale Lions Club
NEARBY MEALS:
Irish Dinner
Artists
Fàrsan
Roger Stone
The Broussards
Please Note: Artists and events subject to change without notice.