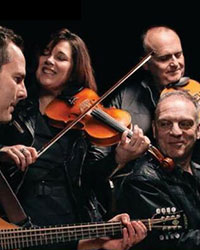 Family Matters:
When
Occurs on Saturday October 12 2019
Approximate running time: 2 hours and 30 minutes
Venue
Performance Notes
×
Ticket Price: $45/40/35 Showtime: 7:30PM
It is pretty well-established that music tends to run in families, and there are few places where this is more evident than on Cape Breton, where names like Rankin, Beaton, and MacMaster instantly bring music to mind, sometimes spanning generations, other times encompassing siblings and cousins. In this evening's concert, the family name that matters is MacNeil, as in the Barra MacNeils from Sydney Mines. Voted Fans' Choice Entertainer of the Year at the 2019 East Coast Music Awards, the Barra MacNeils have been making music together for more than 30 years, releasing 19 albums and touring the world over. It started with Sheumas, Kyle, and Stewart playing parish concerts, encouraged by their mother Jean, a renowned step dancer. It wasn't too long before sister Lucy was old enough to join her brothers on stage and then youngest siblings Ryan and Boyd followed after 10 years in their own group, Slàinte Mhath. This evening they will gather together, along with spouses and children of their own, to share their music, steps, and a few stories as well.
Artists
The Barra MacNeils
Monica MacNeil
Lisa MacNeil
Robert Durando
Extended MacNeil Clan
Please Note: Artists and events subject to change without notice.