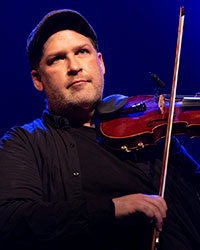 We'll Meet in Inverness
When
Occurs on Saturday October 8 2022
Approximate running time: 2 hours
Venue
Event Notes
×
Ticket Price: $35 Showtime: 2:00PM
Inverness is a good place to meet up with old friends and make new ones. And there will be a bit of both this afternoon as the beautiful St. Matthew's United Church will be overflowing with the sounds of fiddle, piano, and Gaelic song. Troy MacGillivray and Kimberley Fraser have played together many times in the past, both here and abroad. Alex Kusturok, a Metis fiddler from Manitoba who counts Cape Breton and Quebecois fiddle styles among his influences, returns to the Festival a few years after his debut and will introduce guitarist Tim Turrett. And we'll welcome Scottish trio Sian, whose beautiful voices will come together in Gaelic song, and should feel right at home in this beautiful old Church.
Artists
Troy MacGillivray & Kimberley Fraser
Alex Kusturok & Tim Turrett
Sian
Please Note: Artists and events subject to change without notice.