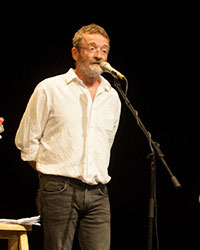 Kelly's Dream
When
Occurs on Saturday October 8 2022
Approximate running time: 2 hours and 30 minutes
Venue
Event Notes
×
Ticket Price: $35 Showtime: 7:30PM
The Boularderie School is a fine example of how many Cape Breton multi-purpose venues were designed with music performance in mind. The school is in the shadow of Kelly's Mountain, a local landmark that serves as the namesake for a popular Cape Breton song, and whose likeness is painted on the nearby mountain that bears his name. "Kelly was an Irishman…" the song goes, and by all accounts, this is a lineup Kelly would likely dream about. This one will be a dream for anyone who loves song—the craft of writing songs, the joys of singing along, the undeniable beauty of all that can be captured in song. This will be a true celebration of song, in English and Gaelic, presented by some of the finest in the field of songwriting and Gaelic singing. This is one dream Kelly's will not want to wake up from.
Artists
David Francey
Buddy MacDonald
Joanne MacIntyre & Sons
Jordan Musycsyn



Please Note: Artists and events subject to change without notice.