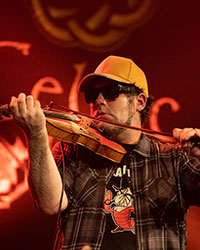 Celtic Cabaret
When
Occurs on Saturday October 8 2022
Approximate running time: 3 hours and 30 minutes
Venue
Event Notes
×
Ticket Price: $50/40 Showtime: 7:30PM
It's Canadian Thanksgiving and that means the long weekend is here. What better way is there to celebrate the occasion than to get out for some music, some dancing, maybe a couple of drinks with friends, and take the opportunity to give thanks—for whatever it is you're thankful for. One of the Festival's few licensed concerts, the Celtic Cabaret at Membertou Trade and Convention Centre has become a Saturday night tradition at Celtic Colours over the years. Tonight's show features Cape Breton fiddler Ashley MacIsaac paired up with the first of a number of piano players he'll be performing with this year, Antigonish county's Jackie Dunn MacIsaac. Prince Edward Island fiddler Gordie MacKeeman will have his dancing shoes on tonight when he and his Rhythm Boys make their Celtic Colours debut alongside Nadine Landry and Sammy Lind joining us from Eastern Quebec. Gordie's old-timey, bluegrass sound and Nadine and Sammy's repertoire of fiddle tunes, early country, and Cajun songs will certainly go a long way to keeping those toes a-tapping. And speaking of singing and dancing and fiddle playing, Lucy and Boyd MacNeil of the Barra MacNeils are teamed up with Rob Durando and Lisa Gallant MacNeil for a set that is sure to include all three, and probably a taste of Gaelic as well.
19 & over, photo ID required
NEARBY MEAL:
Hearty Bowl of Dinner
Artists
Ashley MacIsaac & Jackie Dunn MacIsaac
Lucy MacNeil & Rob Durando & Boyd MacNeil & Lisa Gallant MacNeil
Gordie MacKeeman and his Rhythm Boys
Nadine Landry & Sammy
Please Note: Artists and events subject to change without notice.