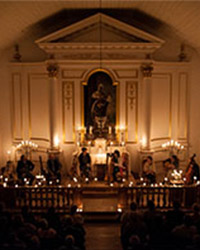 Step Into the Past
When
Occurs on Sunday October 9 2022
Approximate running time: 4 hours
Venue
Event Notes
×
Ticket Price: $125 Showtime: 6:00PM
Take a step back in time this evening as one of the Festival's most popular concerts invites you to Step into the Past at the Fortress of Louisbourg. North America's largest historical reconstruction, the Fortress offers a glimpse at life in colonial Cape Breton around the 1740s. The evening begins with an authentic, traditional 18th century meal, served in period costume and character by candle-light. An after-dinner walk, guided by the glow of lanterns through the cobbled streets of the reconstructed town, takes you to an acoustic concert at the lovely chapel in the King's Bastion. Set against the beautiful candle-lit backdrop of this historic chapel, Orkney native Kris Drever will delight with his impressive guitar playing and relaxed singing style. Singer-songwriter Michelle Deveau, from the Acadian community of Chéticamp, adds some French flavour with her award-winning songs, and Métis fiddler Alex Kuturok brings the tunes accompanied by Tim Turrett on guitar.
Hosted by Fortress Louisbourg Association
Menu
Wine
Vegetable Soup with Home-made Roll
Maple walnut crusted Salmon
Glazed Carrots with Rice
Heritage chocolate cake topped with whipped cream and season berries
Tea or Coffee
If you have any dietary restrictions please phone 902.733.3230
Artists
Kris Drever
Michelle Deveau
Alex Kusturok & Tim Turrett
Please Note: Artists and events subject to change without notice.