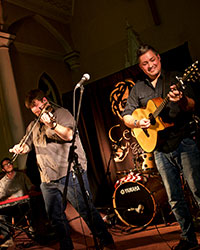 Whycocomagh Gathering
When
Occurs on Saturday October 22 2022
Approximate running time: 2 hours and 30 minutes
Venue
Event Notes
×
Ticket Price: $40/35 Showtime: 7:30PM
Whycocomagh Gathering is another one of those Celtic Colours concerts that has a long history of its own. Usually one of the first concerts to sell out, regular Festival attendees know to expect a high-energy concert that will leave them exhilarated by what they just experienced. And those high expectations will be met again this year at the Whycocomagh Education Centre. Cape Breton fiddle sensation Ashley MacIsaac will be playing with a variety of well-known piano players during Celtic Colours. He makes his second appearance of the Festival tonight, accompanied by Glencoe-native Kolten MacDonell. Allison Beaton will be on hand for some Cape Breton steps. Allison's musical roots run deep, with the Beatons of Mabou and the MacMasters of Judique among her relatives. To top the night off, genre-busting quintet Mec Lir returns to the Festival after making a virtual appearance in 2020 with their tight, lightning-fast playing and huge sound. The Isle of Man / Glasgow-based "trad-pop" band took Celtic Colours by storm when they debuted in 2015, and they have somehow managed to keep raising the energy level every time they have played since.
Hosted by Whycocomagh Volunteer Fire Department
NEARBY MEAL:
Whycocomagh Turkey Dinner
Artists
Ashley MacIsaac & Kolten MacDonell
Mec Lir
Allison Beaton
Please Note: Artists and events subject to change without notice.