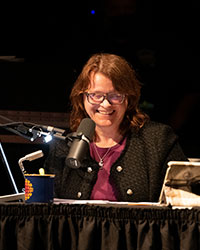 Island Echoes
When
Occurs on Sunday October 9 2022
Approximate running time: 3 hours and 30 minutes
Venue
Event Notes
×
Ticket Price: $45/40 Showtime: 7:30PM
During last year's Festival we celebrated 50 years of CBC Cape Breton's highly-impactful radio program "Island Echoes" which has become a weekly tradition in many households across Cape Breton Island and beyond. For an hour every Saturday night, you can tune in and be sure that you're going to hear some distinctly Cape Breton music—traditional tunes and new compositions, songwriters and Gaelic singers, storytellers and culture bearers, both traditional and contemporary. Hosted by Wendy Bergfeldt, the program keeps you up to date with Cape Breton's culture, showcasing up-and-comers as well as established artists. Tonight's concert, also hosted by Wendy, will feature tunes on fiddle and piano, harp and more as well as songs in Gaelic and English, and Mi'kmaw drumming and singing, as if the radio program itself has come to life. It's not quite an in-depth, "behind the music" exploration of the music, but more like an old-time radio show, providing some context for the music through Wendy's conversations with the artists between performances.
Artists
Kyle MacNeil & Doug MacPhee
Kendra MacGillivray & Troy MacGillivray
The Gilberts
Sons of Membertou
Dominque Dodge & Rose Morrison
Pine Tree Flyers
Please Note: Artists and events subject to change without notice.