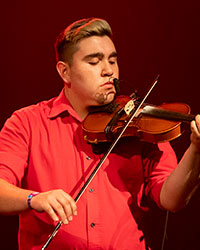 Unama'ki Mawio'mi
When
Occurs on Monday October 31 2022
Approximate running time: 2 hours
Venue
Event Notes
×
Ticket Price: $35 Showtime: 2:00PM
Unama'ki is the Mi'kmaq name for Cape Breton Island, which has been home to the Mi'kmaq for centuries. Bringing together Celtic, Mi'kmaw, and Métis fiddling, today's Mawio'mi, or gathering, takes place in the deeply-rooted First Nations community of Eskasoni, where the traditions of music, dance, singing, drumming, and storytelling are held in high regard. Award-winning Mi'kmaw fiddler Morgan Toney has been attracting a lot of attention since performing with Ashley MacIsaac in the opening concert of Celtic Colours in 2020. They will both take the stage for this concert—Morgan with Barn Bhreagh bandmate, and producer of his debut album, Keith Mullins, and Ashley with renowned Port Hood piano player Cathy Hawley who once recorded with the legendary Winston "Scotty" Fitzgerald. Manitoba native Alex Kusturok completes the fiddle trio, accompanied by Newfoundland guitar-player Tim Turrett. Mi'kmaq drumming and singing group Sons of Membertou will be performing at Celtic Colours for the first time this afternoon. Cape Breton University's 2022 Artist in Residence, the group has performed all over the world, always carrying with them the original goal of finding identity and sharing Mi'kmaq songs and culture with others.
Hosted by Eskasoni Band Council
Artists
Ashley MacIsaac & Cathy Hawley
Morgan Toney & Keith Mullins
Alex Kusturok & Tim Turrett
Sons of Membertou
Please Note: Artists and events subject to change without notice.