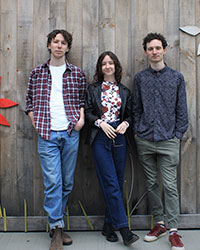 An Afternoon of Songs & Tunes
When
Occurs on Saturday October 22 2022
Approximate running time: 2 hours and 30 minutes
Venue
Event Notes
×
Ticket Price: $35 Showtime: 2:00PM
The congregation of St. Matthew Wesley United Church has been hosting Celtic Colours concerts for years but this will be the first time we join them at their new location in Leitches Creek. What better way to spend a holiday Monday afternoon than sitting in a little country church surrounded by beautiful harmonies and Cape Breton tunes played on fiddle, piano and guitar. If that sounds like a lovely time, then An Afternoon of Songs and Tunes may just be for you. Seeing any of today's performers in this setting will be special, but it seems particularly suited to The Gilberts. The award-winning sibling trio, known for their soaring three-part harmony, had such an impact on Celtic Colours audiences last year that we knew we had to get them back. Another group making their mark in harmonious singing is the Scottish trio Sian featuring Gaelic singers Ceitlin Lilidh, Eilidh Cormack, and Ellen MacDonald. Their voices blend seamlessly, intertwining atmospheric harmonies and sympathetic accompaniment from multi-instrumentalist Innes White to create Sian's unique sound. What goes well with songs sung in beautiful harmony? Maybe a few tunes. Mckayla MacNeil has studied traditional fiddle and classical violin with Kyle of the Barra MacNeils—no relation—for many years. Mckayla will be accompanied by Kyle's brother Sheumas on piano and Sheumas' son Malcolm on guitar.
Hosted by St. Matthew Wesley United Church
Artists
The Gilberts
Sian
McKayla MacNeil & Sheumas MacNeil & Malcolm MacNeil
Please Note: Artists and events subject to change without notice.