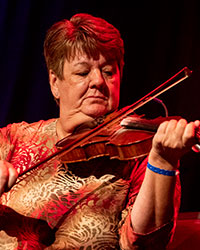 The Tunemakers
When
Occurs on Monday October 10 2022
Approximate running time: 2 hours and 30 minutes
Venue
Event Notes
×
Ticket Price: $35 Showtime: 7:30PM So many tunes, so little time. Where do all these tunes come from? Sure, many of the tunes we are most familiar with may be traditional, having been composed long ago and passed down through the ages. But even traditional tunes were new once. New tunes are actually being "made" all the time. We have assembled some of the finest tune makers from the Cape Breton, Irish, Scottish, and Métis traditions for this concert tonight in Judique. Sit back and enjoy the show and see how many tunes you recognize and thought of as traditional were actually composed by someone on this stage.
Hosted by Judique Community Centre Development Association
Artists
Brenda Stubbert & Kolten MacDonell
Bríd Harper & Dermot Byrne
Cameron Chisholm
Adam Sutherland & John Somerville
Alex Kusturok & Tim Turrett
Please Note: Artists and events subject to change without notice.