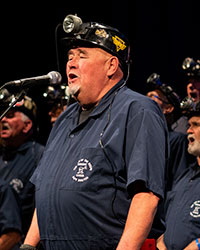 Coal Town Ceilidh
When
Occurs on Monday October 24 2022
Approximate running time: 2 hours
Venue
Event Notes
×
Ticket Price: $30 Showtime: 2:00PM
Great music has always been a staple in New Waterford on the Atlantic coast of Cape Breton county. Many of the town's original settlers came from Ireland and found work in the coal mines established there around the turn of the twentieth century. The collapse of the mining industry in Inverness county in the 1950s prompted many descendants of that area's Scottish settlers to make their way to New Waterford looking for work. With strong ties to their Scottish and Irish roots intact, folks in this former coal-mining community love music and never miss an opportunity to gather for an afternoon of tunes. So it's only fitting that we should have a little céilidh this afternoon in New Waterford. Even more so to have Nipper MacLeod on stage. A member of The Men of the Deeps coal miners chorus, Nipper welcomes Adam Sutherland and John Somerville from Scotland, and PEI-based Inn Echo to his hometown for this matinee céilidh. The mix of songs and stories, fiddle and accordion, and Inn Echo's cello will sound beautiful in the Calvin United Church.
Hosted by Calvin United Church
Artists
Nipper MacLeod
Adam Sutherland & John Somerville
Inn Echo
Please Note: Artists and events subject to change without notice.