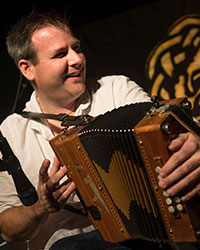 Tunes with Tim
When
Occurs on Tuesday October 11 2022
Approximate running time: 2 hours and 30 minutes
Venue
Event Notes
×
Ticket Price: $40 Showtime: 7:30PM
Tim Edey made his first Celtic Colours appearance in 2010 to universal acclaim, and he has delighted crowds everywhere he plays, every time he has been back. Whether he's sitting next to J.P. Cormier picking and strumming their way through a 45-minute impromptu medley of trad tunes, jazz standards, folk songs, and movie themes, or switching back and forth between guitar and melodeon on stage at the Festival Club with seemingly everyone who gets up to play, there's something special about tunes with Tim. Tim is featured on his own tonight. Mairi Rankin and Eric Wright had tunes with Tim this past spring when they toured Ireland together and he shared the stage with Ashley MacIsaac for tunes at Celtic Colours 2109. You don't want to miss the finale for this one!
Hosted by Riverdale Community Services Society
NEARBY MEAL:
Traditional Irish Stew
Artists
Ashley MacIsaac & Hilda Chiasson
Tim Edey
Mairi Rankin & Eric Wright
Please Note: Artists and events subject to change without notice.