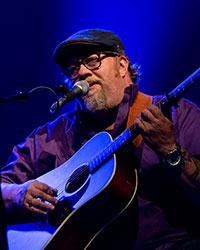 A Cheticamp Soiree
When
Occurs on Wednesday October 12 2022
Approximate running time: 2 hours
Venue
Event Notes
×
Ticket Price: $35/30 Showtime: 7:30PM
One of the Acadian areas on Cape Breton, Chéticamp is home to a vibrant culture, rich traditions, and an abundance of music and dance. Soirées are hosted throughout the year in this community, and with Celtic Colours here, throughout the week as well. This evening's gathering at La Place des arts Père Anselme Chiasson will be a lively one. J.P. Cormier is well-known for everything he does, and he does everything. The multi-instrumentalist singer-songwriter will have an opportunity to catch up with Jake Lauzon, an accomplished young bluegrass and Celtic guitar player and singer. Jake caught J.P.'s attention a few years ago and he made his Celtic Colours debut shortly after that. New Brunswick trio Les Fireflies are making their debut here this year and they'll find some kinship with their Scottish, Irish, and Acadian songs and tunes. And you can't have a gathering like this without someone like Donny LeBlanc who was the house fiddler at the Doryman Pub's Saturday afternoon concerts for 20 years. The Chéticamp native released an album in 1993 with Hilda Chiasson on piano and Hilda will join Donny for some rousing Cape Breton tunes, Chéticamp style.
Hosted by Conseil des Arts de Chéticamp
NEARBY MEALS:
Acadian Community Meal
and Acadian Culinary Experience at The Mi-Careme Center.
Artists
J.P. Cormier
Donny LeBlanc & Hilda Chiasson
Jake Lauzon
Les Fireflies
Please Note: Artists and events subject to change without notice.