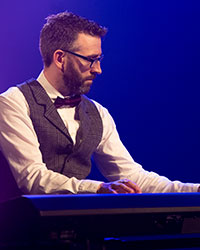 Ceilidh in the Glen
When
Occurs on Monday October 24 2022
Approximate running time: 2 hours and 30 minutes
Venue
Event Notes
×
Ticket Price: $30 Showtime: 7:30PM
There's a céilidh in the glen tonight and with this lineup of performers, you can bet it will be as strongly rooted in tradition as its surroundings are. The Glendale area is one of the places on Cape Breton Island where you will still find a concentration of Gaelic speakers, and this is a community that takes their céilidhs to a whole new level. Known for generous hospitality and enduring Gaelic customs, Glendale residents hold their culture in high regard. This was the site of the first Festival of Cape Breton Fiddling in July 1973 when, in a response to the film The Vanishing Cape Breton Fiddler, more than one hundred and thirty Cape Breton fiddlers gathered for one of the greatest, and most culturally-significant, concerts ever staged on Cape Breton. That spirit remains strong here and almost 50 years later, fiddlers, singers, piano players and dancers from Cape Breton, Scotland, and New England will return to the scene and continue the tradition.
Hosted by Glendale and Area Community Cooperative
Artists
Howie MacDonald & Mac Morin
Cameron Chisholm
Staran
Pine Tree Flyers
Melanie MacDonald
Please Note: Artists and events subject to change without notice.