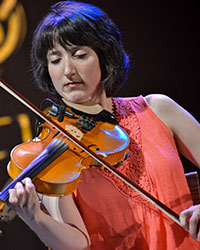 Heart and Soul
When
Occurs on Thursday October 13 2022
Approximate running time: 2 hours and 30 minutes
Venue
Event Notes
×
Ticket Price: $35/30 Showtime: 7:30PM
You'd have a hard time finding a collection of players with more heart and soul in their music than the ones assembled for this evening in Sydney River. Among the very finest in the Cape Breton tradition, Kimberley Fraser, Hilda Chiasson, and Dave MacIsaac play with the heart and soul of a dance on a Saturday night, and a slow air at a Sunday afternoon concert. Dave MacIsaac has so much soul he recorded an album called "Guitar Souls". Barn Bhreagh is full of heart, blending their varied influences and styles into a sound that is solidly based in folk, roots, and indigenous traditions—and the joy of making music together. And Scottish duo Adam Sutherland and John Somerville's fiddle and accordion will be so good for the soul in this setting. Celtic Colours uses of a number of churches around the Island for concerts because they're often beautiful, historic structures and the acoustics typically make them a good place to present music. That's something you'll experience here, wrapped in the heart and soul of the music.
Hosted by Men's Brotherhood-United Protestant Church of Sydney River
Artists
Kimberley Fraser & Hilda Chiasson
Barn Bhreagh
Adam Sutherland & John Somerville
Please Note: Artists and events subject to change without notice.